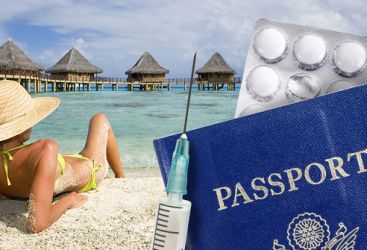 Travelling to South America or Africa? Book your Yellow Fever Vaccine Today!
No appointment necessary, get your Yellow Fever Vaccine here now at your convenience, at our Bondi Road Travel Medicine Clinic 

Full and Comprehensive Travel Health and Immunisation Service
WHO Authorised Provider of Yellow Fever Vaccine
Internation Vaccine Certification
Emergency First Aid and Travellers Medical Kits available
Competitive Prices for Vaccination and Travellers Medical Items
Don't let vacation illness or holiday injury spoil your travel plans...
Whether you are going overseas as a seasoned traveller, or for the first-time, you want to make sure you really enjoy yourself.
Visit the Sydney Yellow Fever Vaccine Clinic, Bondi, for vaccinations, travel health and medical advice for travel overseas.

Yellow fever is a disease transmitted by the bite of a mosquito known as Aedes aegypti, as well as other kinds of mosquitoes in the forests of South America. It occurs only in certain regions of the globe. Yellow fever affects humans as well as monkeys.
How do I get Yellow Fever?
If you are planning a trip to a yellow fever endemic area, you will need to be vaccinated against yellow fever. Without the vaccination, you may get yellow fever if bitten by the mosquito that transmits yellow fever.
It is a requirement that in Australia all travellers must be vaccinated against yellow fever, before going to an endemic area. The phase one symptoms of yellow fever include; muscular pain, headaches, chills and fever, nausea and vomiting. WHO says approximately 15% of people in stage one will progress to phase two.
The symptoms of yellow fever with phase two appear within a few days. They might include: fever, jaundice, vomiting, abdominal pains. WHO states that half of these patients will die within 14 days of the onset of phase one symptoms.
Where is Yellow Fever endemic?
Yellow Fever has spread to many tropical areas of Africa and South America.
It is imperative for travellers to consult with a travel health expert prior to travel to areas where yellow fever may be endemic. In some countries it is mandatory to be vaccinated against yellow fever.
Dr Harry is Sydney's #1 specialist in Yellow Fever and all Travel Vaccinations
Come see Sydney's number 1 specialist in Travel Medicine before you go on holidays. Walk ins welcome or book today 02 9389 8000